Hog Roast Nantwich offers superb indoor and outdoor hog roast catering throughout the picturesque county of Cheshire. Whatever your reason for hosting your event or celebration in our architecturally historic corner of the country, we're here to make sure that your group dining plans provide the delicious and aromatic centrepiece to your memorable day.
What's Going On In Nantwich?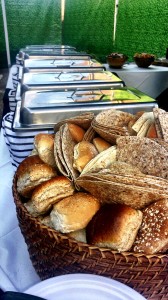 Nantwich is perhaps most well known for its striking black and white timber buildings. All in all, we can boast an impressive 132 listed buildings. Indeed, one of the main reasons that our clients choose to host their event or celebration with us is to take in the historic architecture.
Eye catching architecture aside, our visually appealing town is also known for a handful of interesting annual events that draw the crowds by the thousands. First, the annual Nantwich Show plays host to the International Cheese Festival. There's also the entertaining annual Worm Charming Championships (no worms are harmed during the event, you'll be pleased to know!). Of course, if cheese and worms don't do it for you, there's always the annual Jazz and Blues Festival held over the Easter Bank Holiday. This sprawling event is held across multiple Nantwich venues, and we know that tired feet means hungry bellies…
…if you're planning on basing your event or celebration on visiting us during one of these festivals, and if you'd like to add that special touch of hog roast group dining to your plans, Hog Roast Nantwich is ready to provide you with the professional staff and equipment to feed the masses!
Hog Roast Nantwich – Visiting Cheshire
The total number of yearly visits to Cheshire towns and cities is dominated by the walled city of Chester, known for its Roman heritage, stunning scenery, the 'Chester Rows' retail experience, and of course Chester Cathedral. With more than 60 million visitors per year, Chester is truly one of the UK's standout must-see destinations.
Chester Racecourse in particular is a favourite attraction in pleasant and scenic Cheshire. The racecourse hosts several flat meets each year between spring and autumn, pulling in tens of thousands of visitors. And don't forget the Chester Santa Dash, still going strong!
If you're thinking of joining in the fun, and if you're wondering about how to feed and entertain your guests at your event or celebration, we have the answer. Hog Roast Nantwich is proud to be the premium provider of hog roast catering throughout Chester. From small-to-medium sized garden parties to larger scale events involving the general public, our experienced staff can help you to keep the crowds going. We'll talk you through all of your options, including specially designed menus, hog roast machine accessories, and how to chef the event yourself should you wish. Get in touch today to discover how Hog Roast Nantwich could exceed your expectations of hog roast catering.