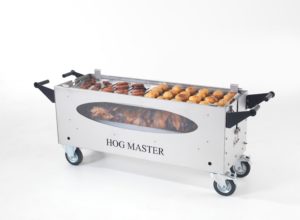 Hiring a hog roast machine could not be easier. Simply give us a call and we will deliver the machine with a bottle of gas ready to go, direct to your venue. The hog roast machine can be delivered with or without a fully prepared pig the choice is yours, take advantage of our carefully selected free range pigs or arrange your own pig locally. We will then collect the machine after the event either clean or dirty again the choice is yours, there is an extra cost for sending the machine back dirty. If you have several events planned over a longer period of time again no problem we can arrange for a hog roast machine hire for as long as you require it.
Our hog roast machines come in a variety of sizes, which means that you can serve for your intimate gatherings but also the larger corporate events of up to 300 people or more! Check out which machine is best for you:
Single Oven Machine (up to 150 servings)
Our single oven machines form the backbone of our popular hog roast machine hire services. Capable of cooking 75 kilos of meat to succulent and crispy perfection, these easy to use machines produce up to 150 servings per roast.
Double Oven Machine (up to 300 servings)
Our double oven hog roast machine hire options provide you with large scale catering solutions. These machines can handle up to two 65 kilo pigs, meaning you can keep your festival or fete goers fed with up to 300 servings per roast.

A question we are often asked is whether you can chef the event yourself. The answer is yes. All of our hog roast and spit roast machines are designed with ease of use in mind. The Hog Roast Nantwich team is happy to provide a short tutorial and leave you to serve your guests. So next time you feel like impressing your friends and family and playing master chef why not try hiring one of our tried and tested top of the range hog roast machines for the weekend. Speak to us today about your hog roast machine hire requirements and get excited about placing one of our gleaming machines at the forefront of your plans.
Check out how you could expand your menu quickly and simply with our purpose built accessories: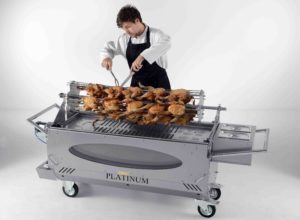 BBQ – Our high quality BBQ accessory fits perfectly on top of the hog roast machine. Keep the crowds happy with servings of juicy burgers and sizzling sausages while the air fills with the alluring scent of the aromatic hog roast.
Chicken Spit – Don't let the name fool you. While the chicken spit is capable of cooking up to 36 large chickens, you could also choose to cook sides of beef, pork legs, and even seafood. Speak to us today about your menu preferences for instant advice.